Androrat is a one of the top of the line Android RAT (Remote Administration Tool) ever introduced with a tons of powerful features to take over remote android device. Androrat download and get your hands on practice.
Remote administration tools are the ones that gain access to a device without their permission. It's mostly used for unauthorized use but not all the RATs are used for un-ethical use, these are mostly used for the legal purposes as well like security researches to find out the loopholes in a system and etc. The purpose of sharing this Android RAT is to let the people know how easily your android phone can be hacked and leak your all confidential information including social messaging apps.
As there's tons of android remote administration tools why Androrat? Well, the answer is very simple and straight forward. Androrat is the most powerful and easy to use for it's simple Androrat Binder feature which can be used to create Andorat APK with just one click and can bind with other apps, so the victim can't be in any doubt to install it. This Android RAT is developed by the university students as their project but it went beyond the boundries and became one of the top android remote administration tool. It works on the client and server and is developed in JAVA programming language for the Android client while it's server is programmed in Swing and JAVA.
Androrat Features
Creating and installing an Androrat APK is very simple and straight forward at just one click.
Androrat Binder is the powerful binder that binds the payload APK with other android apps without having any technical knowledge. With just few clicks it gets binded with other apps.
Once the Androrat APK payload is installed to the remote devices, user can play with tons of things on remote devices:
Grabs all the contacts from the victim devices and let the attacker read it in plain text form. User can view the details of the any contact he wants to.
Getting the user call logs; means attacker can see all the call log of incoming and outgoings from the victim device.
One of the most powerful feature which made Androrat very popular is it's spying features. It can spy on all the chats and messages from the target device. Attacker can see get the very confidential information from the messages and chats remotely. It might look like illegal but the purpose of this feature is to give parents control to keep an eye over their children.
GPS (Geo Positioning Satellite) Location to track the device location in the world. Gives the exact user location in the real time world.
Internet Browser History for making sure your kid's on the right path and internet isn't exploiting your kids. Track their internet history with this feature.
Realtime Spying on Messages, track all the conversations live from the target device. Every new message will be visible to you.
Spying on Phone Activity if the device is busy on call or it's in idle state. Keeps all the record of whose making call right away and etc.
Capture Remote Images from the Camera; you can take pictures from target device and see them on your client panel.
Live sound stream from remote Mic. Listen to the all conversations one is having without knowing that the walls have ears too.
Live video stream from the remote Cam to see what's going on and what they are up to.
Prompt a message on target phone with 'Do a Toast' feature. Send anything as a prompt message to the victim.
Send SMS Messages; send messages from their smartphone. Target even will not be able to see if someone's send messages through their phone.
Make a Remote Call; dial any number to make call to from the connected phone.
Remote URL Browser to open up any website in their default browser.
Vibrate the smartphone to make little fun with your friends.
List of all the installed Apps on the phone.
Androrat GUI Interface
Androrat is a GUI interfaced tool that makes it very easy to use. It's client can be popped up with just double click and all the connected devices appears in a list. Click on any of the connected device to interact with.

Following is a screenshot of connected device. It gives a plenty of options to play with on a remote target. All the features are categorized in tabs. All the tabs give different options so you can perform any specific task easily.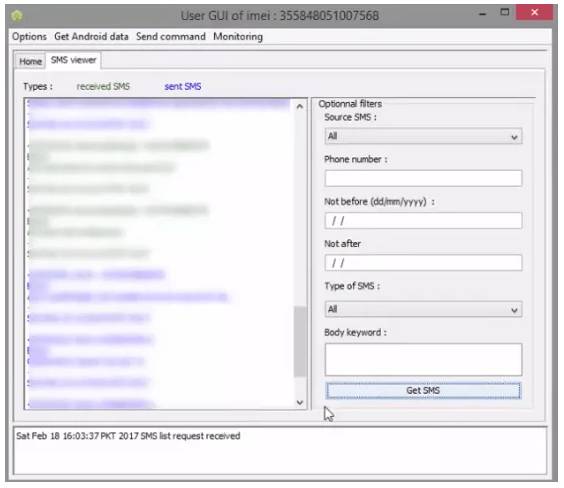 Androrat APK
Making an APK isn't any hard with Androrat. It's generated APK will be very small in size that can be installed easily to any android phone. Once this Androrat APK is installed to a target device..Bingo.!! You are now the commander of the device as you have full control to do anything on it remotely. With the Androrat client windows, you can browser all the options you can perform with just few clicks.
Androrat Binder
One of the core features of this tool which is Androrat binder can bind any android application with the payload so the victim won't be aware of any doubts. With binder you make apk bind and sends to your victim and once he install the app you payload apk will be installed automatically with it.
How Androrat works?
It's working isn't as hard as you might think. So, how it works? Here's the answer:
Create an APK with it's APK Binder tool.
Spread the generated APK or send it directly to your target.
As he installs the APK to his phone, it will get connected to our client and will appear up in the Androrat client window.
From the panel, you are free to perform any operation on the target device.
How to Prevent your Phone from Androrat?
To be secure of this android rat, make sure you don't install any application from the third parties. Only rely on the PlayStore for malware free apps. Also install an antivirus and malware removal apps to your phone so it can remove all the malicious apps from the phone. Do not forget to update the software frequently.